Posted on September 6, 2018
I'M BACK BABY!
Hi all, it's Xander!
I've been gone from the store for quite a bit now! But I am finally back! I don't want to talk about what i've been up to mostly because you are here for Reclaim Video content. But if you want to really know, I went on a 2 week beach vacation and then started my Senior year of High School.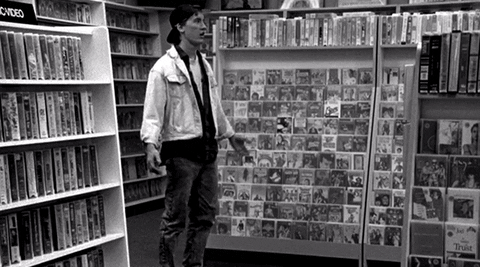 Back to Reclaim Video content! Yay!
So I came back to tons of stuff to catalog and put out on the shelfs, totally love it! I got to catalog some Laserdisc and some VHS, and we final have some movies i've been wanting to have in the store! We got a VHS of Waterworld, and The Professional! I love The Professional, I believe it is a must see for any movie fan. It is very adorable and funny, I personally have to watch it in the store.
You see that? That is a E.T VHS with the Green Spindles! It looks so cool, so amazing. Is that special or rare? No…. But it looks so cool!!!! I just love VHS tapes that have a different color than the standard Black. Like a white body VHS tapes are so cool! I have a few tapes that i'm personally trying to find which have a white body, I hope I can find them some day.
Today I watched a real classic, The Sixth Sense! Really good movie with that iconic quote "I see dead people". Man what a cool movie! You watch it once, but then at the end when you see the twist you freakout! Next thing you know you are watching it again now that you understand it fully. Really good movie with a good cast!
We had a few customers in today, one rental though. I missed getting to be in Reclaim Video and interacting with all the awesome customers. Finally I'm back and got to interact with some alright customers. Had a rental, and had someone come in looking for dvds.
In all pretty good day at my first day working at Reclaim Video as an afterschool job! Always so much fun working, and enjoying some good movies! Please come in and check us out if you haven't!